Integrate to your SDLC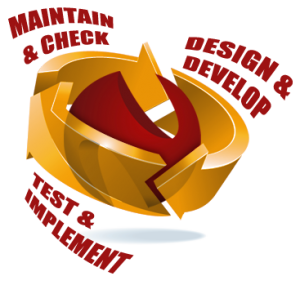 N-Stalker proposes an effective approach on protecting your Web Application against security vulnerabilities by  shipping a complete solution ready to be integrated to your Secure Development Life-cycle (SDLC). Including the following phases:
Design & Develop


After designing phases, development take an important role on building strong applications. N-Stalker allows developers to assess their run-time environment and check for security flaws introduced during coding.
Test & Implement


Security testing is one of the most important functions in the SDLC. It allows to verify if security controls and requirements are fulfilled correctly before implementing and promoting application to production-level. N-Stalker allows for a broad security assessment of your application before hitting production.

Maintain & Check


Continuous and periodic security assessments are required in a number of different industry regulations and is also a key function in your SDLC. Making sure that changes to your web application will not break its security maturity level is important to manage vulnerabilities and security risks.